Runecraft: The Barrows Brothers
The Barrows Brothers Mod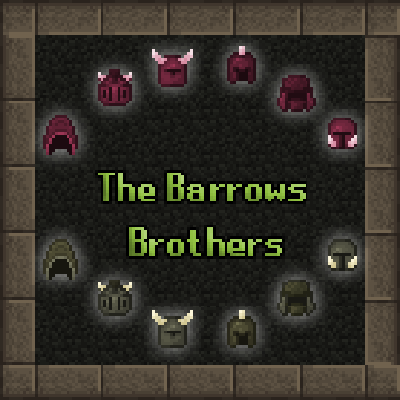 Story
The Barrows brothers were a band of six legendary Saradominist warriors who ventured into Morytania during the God Wars, leading the Morytania Campaign. Their fate is revealed in the crumbling tome. They struck a deal with a mysterious stranger for power, and after their deaths, the Stranger came to 'collect' them, and they were buried in six burial mounds, or Barrows, in eastern Morytania, giving them their collective name. Even after their deaths, they remain as wights. They are featured in the Armies of Gielinor Saradomin Strikes campaign. Their ages are shown by their names, the first alphabetically being the oldest (Ahrim), and the last alphabetically being the youngest (Verac). The brothers are very strong wights, and their name is derived from their last resting place, now known as the Barrows.
---
Mod Content:
The mod adds the 6 barrows brothers as minibosses (including boss bar) and various rewards for defeating them.
6 armor sets, 6 unique weapons, 1 Barrows Book which can show you your kill count / brother and your total barrows count (how much time you made it)
The mod is counting your finished barrows runs and kills. There is 1 drop table with 4 possible drop categories, Barrows related drops, food drops, medicore materials (like coal, iron ore,gold ore) and epic drops like nether star, netherite related items, emeralds diamonds etc.


How to beat the bosses and how to prepare?
The barrows bricks are extremely strong and resistant. First you have to get into the chambers where you can find the Sarchopagis of the brothers. You will need a shovel to do it because the barrows are covered with dirt and you have to find the entrance to their chambers on the top of those small hills. Also you can't break the blocks without netherite tools). There is locked and blocked doors. Blocked doors can't be broken without netherite items, meanwhile locked doors can only be unlocked with Strange Old Lockpicks which is dropped by crypt creatures with a 25% chance/kill. Each lockpick can be used 15 times before they broke, so plan your barrows runs wisely otherwise you will stuck down.
Defeating each one of the bosses will require the best gear you can get (netherite is perfect but at least diamond required, enchanted gear is optional but bring many potions).
Upcoming Features
-Achievements
-Bosses special abilities
-Different dungeon overlays
-Drop rate system
-Repair feature in armorsmith and weaponsmith villagers
Credit: The art created by alliedforce35
Curseforge link:
www.curseforge.com/minecraft/mc-mods/runecraft-the-barrows-brothers
Known bugs: Structure generation problems, will be fixed in the next update.
If you are interested in one of our other mods, please come and join our united discord:- discord.gg/rTjRma3

If you are interested only in our Runescape themed mods and projects, join this discord server: - discord.gg/snXqPATrDv
Runecraft: The Barrows Brothers Screenshots
Dear youtuber!
Have you a channel youtube and want to bring your Video to quality visitors?
Do you want your video to appear on our website?
Do you want to become partner with us?
Just 3 steps to become our partner:
Step 1
: Make video review for mods, addons, plugins, ... which you like
Step 2
: Upload this video to youtube and our link to your video description
Step 3
: Send the youtube video link via message to
http://fb.com/9lifehack
or leave a comment in the post. We will add your video in the our post, it will help you have more view.
JOIN to get more youtube view with us!!!!