FSO Knock Nevis (2004) | Full Interior | Download
28
---
Scale:
1.8:1
Version:
1.12.2+
---

TT Seawise Giant—earlier Oppama; later Happy Giant, Jahre Viking, Knock Nevis, and Mont—was a ULCC supertanker that was the longest self propelled ship ever, built by Sumitomo Heavy Industries in Yokosuka, Kanagawa, Japan. It possessed the greatest deadweight tonnage ever recorded. Fully laden, its displacement was 657,019 tonnes.

The heaviest self propelled ship of any kind, and with a laden draft of 24.6 m (81 ft), it was incapable of navigating the English Channel, the Suez Canal or the Panama Canal. Overall, it is generally considered the largest self propelled ship ever built. Although in recent years its overall length has been surpassed by 30m by the Floating Liquified Natural Gas installation Shell Prelude (FLNG), a monohull barge design 488m long and 600,000 tonnes displacement. Seawise Giant's engines were powered by the Ljungström turbine technology.

It was sunk in 1988 during the Iran–Iraq War, but was later salvaged and restored to service. The vessel was converted to a floating storage and offloading unit (FSO) in 2004, moored off the coast of Qatar in the Persian Gulf at the Al Shaheen Oil Field.

The vessel was sold to Indian ship breakers, and renamed Mont for a final journey in December 2009. After clearing Indian customs, the ship sailed to Alang, Gujarat, where it was beached for scrapping.
---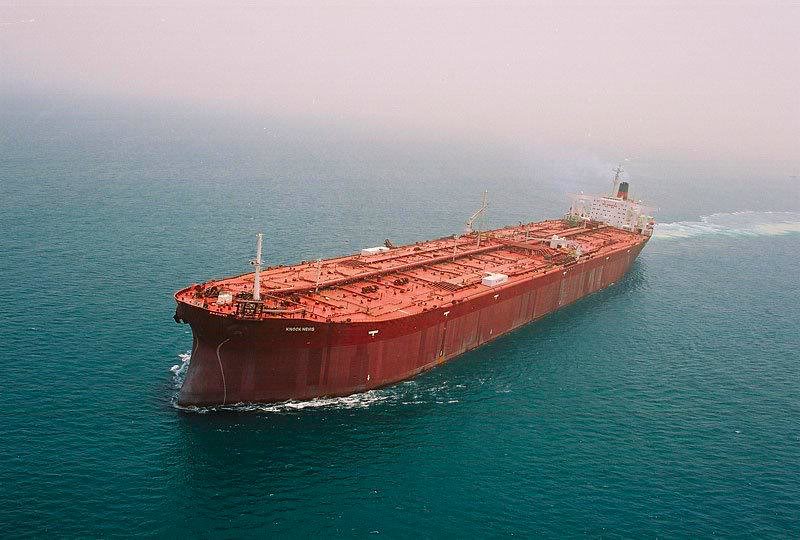 ---
History:

Name:

Seawise Giant (1979–1991)
Happy Giant (1991)
Jahre Viking (1991–2004)
Knock Nevis (2004–2009)
Mont (2009–2010)

Owner:

Amber Development (2009–2010)
First Olsen Tankers Pte. (2004–2009)
Loki Stream AS (1991–2004)

Operator:

Prayati Shipping (2009–2010)

Port of registry:

Norway (1980–2010)

Builder:

Sumitomo Heavy Industries, Ltd.

Yokosuka, Kanagawa, Japan

Out of service:

2009

Identification:

Call sign: S6AV7DNV
ID: 16864
IMO number: 7381154
MMSI no.: 564687016

Fate:

Scrapped in 2010

General characteristics:

Type:

Crude oil tanker

Tonnage:

260,941 GT
214,793 NT
564,763 DWT

Displacement:

81,879 long tons light load
646,642 long tons full load

Length:

458.45 m (1,504.10 ft)

Draft:

24.611 m (80.74 ft)

Depth:

29.8 m (97.77 ft)

Propulsion:

2 Mitsubishi V2M8 boilers (Designed by Combustion Engineering)
Sumitomo Stal-Laval AP steam turbine, 50,000 hp


Speed:

16.5 knots (30.6 km/h; 19.0 mph)
---
Special thanks to:
CubicBrainstorm for the renders, Axandres274 for the engine room & Houston30 for help with the interior.
---
Discord server:
https://discord.gg/ztq3SfCgfp
---
© Chrisi_2006

The "FSO Knock Nevis (2004)" from Chrisi_2006 is licensed under:
Creative Commons Attribution-NonCommercial-NoDerivatives 4.0 International License.
---
Dear youtuber!
Have you a channel youtube and want to bring your Video to quality visitors?
Do you want your video to appear on our website?
Do you want to become partner with us?
Just 3 steps to become our partner:
Step 1
: Make video review for mods, addons, plugins, ... which you like
Step 2
: Upload this video to youtube and our link to your video description
Step 3
: Send the youtube video link via message to
http://fb.com/revozincom
or leave a comment in the post. We will add your video in the our post, it will help you have more view.
JOIN to get more youtube view with us!!!!